This build has been archived as of 23:50, 5 July 2009 (UTC), for the following reason:

Faster raptor farmers
Leeching is pretty lol anyway
Build I use for the purpose in title. I suck at running btw.
Attributes and Skills
The energy cost of attack skills, rituals, touch skills and all Ranger skills is reduced by 56%.

EotN
No Profession. Deldrimor rank
Dwarven Stability
Enchantment Spell
For

24..30

seconds, your Stances last

55..100

% longer. If you activated this Skill while drunk, you cannot be knocked down.


PvE only.
5
¼
30
Factions
Assassin. Unlinked
Dash
Stance
For 3 seconds, you run 50% faster.
5
8
Core
Ranger. Expertise 14
Escape
Elite Stance
For

8

seconds, you move 33% faster and have a 75% chance to block attacks.
2
12
EotN
No Profession. Ebon Vanguard rank
Ebon Escape
Spell
Shadow Step to target other ally. You and that other ally are healed for

70..110

health.


PvE only.
5
¼
10
Factions
Assassin. Shadow Arts 12
Death's Charge
Spell
Shadow Step to target foe. If that foe has more Health than you, you are healed for

173

.
5
¼
30
EotN
No Profession. Norn rank
"I Am Unstoppable!"
Shout
For

16..20

seconds, you have +24 armor and cannot be knocked down or Crippled.


PvE only.
5
30
Factions
Assassin. Shadow Arts 12
Shadow of Haste
Stance
For

34

seconds you move 15% faster than normal. When Shadow of Haste ends, you shadow step to your original location.
5
45
Core
No Profession. Unlinked
Optional
Optional
Optional.
Equipment
Full Survivors Insignia
Martial weapon with an 'of Enchanting' mod
Usage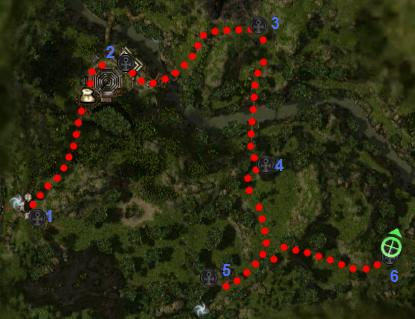 Use Shadow of Haste immediately after spawning in Riven Earth, and get to the first shrine next to the town for the blessing. Cancel to warp back and save some time.
Maintain Dwarven Stability except when about to aggro the Destroyers en route to the third shrine (they use Shatter Enchantment).
Chain Dash->Escape, canceling Escape with Dash only when Escape will be recharged by the time Dash runs out (differs depending on Delver rank).
Use Ebon Escape to shadow step to NPCs along the path. Or catch up to the other runners if you suck.
If your farmer is a Mist/Shadow Form farmer, after reaching the first shrine, continue past towards the third shrine and activate Shadow of Haste once you reach the end of the bridge. Be sure not to cancel it and run back to the second shrine. Once 25 kills are reached, grab the bonus and cancel Shadow of Haste. Continue running.
Use "I Am Unstoppable!" when running past the spiders and destroyers.
Death's Charge at enemies directly on your path.
Counters
Bodyblock/Lag
Farmer dying
Simians copying snare skills because the people following you forgot to take them off.
People aggroing Cloudtouched Simians because they're terrible.
Notes
Hundred Blades Farmers: 1 extra shrine.
Each extra shrine is only 30 points. More fun than standing around though.
Keep in mind that this run is done in Hard Mode. You cannot afford to take many hits.
See Also